Sharon Price John
Sharon Price John – President and CEO Build-A-Bear Workshop®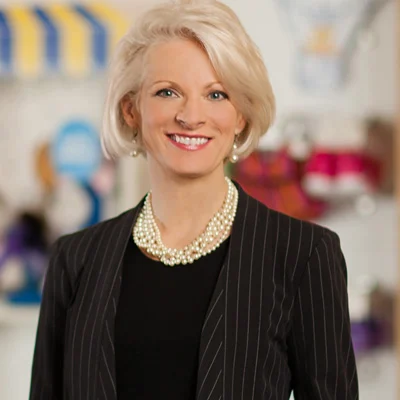 Sharon Price John has been President and Chief Executive Officer of Build-A-Bear Workshop, Inc. (NYSE:BBW) since June 2013. In just a few short years, she has helped lead the company through a financial turnaround, while refreshing the nearly 20-year-old brand and repositioning it for future success. At the St. Louis headquarters of Build-A-Bear Workshop and when visiting stores across the globe, the Tennessee native leads and challenges her teams to be better and do better every day in a uniquely engaging way. She takes the time to share the full story with employees and answer questions, and they in turn know she will always speak the truth. Sharon took this approach directly to the field on the Season Eight premiere of the hit CBS series "Undercover Boss" in December 2016. In this episode, she donned a disguise while working with store and warehouse associates to gain unfiltered feedback on changes the company began implementing—including a new Discovery store format—beginning in 2014.
With two decades of experience in marketing, product development and change management, Sharon has worked on a variety of brands and businesses, including tenure at companies like Hasbro, Mattel, Wolverine World Wide (WWW) and DDB Needham Worldwide, where she established a strong track record of success.
Prior to joining Build-A-Bear Workshop, Sharon was President of the Stride Rite Children's Group LLC. (SRCG), a division of WWW, where she led all functions of the SRCG—including product creation, wholesale sales, marketing, planning and distribution. She wore many hats while directing operations, retail merchandising and international franchising for more than 350 Stride Rite stores.
Prior to SRCG, she held a range of senior management roles at Hasbro, including General Manager and Senior Vice President of Global Preschool, where she drove the global strategy and marketing for Hasbro's Preschool portfolio that included Playskool and Play-doh. Separately, Sharon served as the General Manager, Senior Vice President of Marketing for the U.S. Toy Division, overseeing iconic brands like NERF, Transformers and My Little Pony, while managing key licensing relationships such as Star Wars and Marvel. Prior to that, she held a number of roles, including Marketing Director of Barbie and Vice President of International for the Disney Business Unit.
Sharon's career began in the advertising industry working at top agencies in New York, including DDB Needham Worldwide on the Hershey account and Bates USA as Account Supervisor for the SNICKERS/M&M Mars business. She holds a Master of Business Administration from Columbia University and a Bachelor of Science Degree in Communications from the University of Tennessee Knoxville. In 2014, she received the distinguished alumna award from Columbia Business School – Columbia Women in Business. In 2016, she was recognized as one of the University of Tennessee Knoxville's 100 Distinguished Alumni of the last 100 years.
Sharon has served on the Board of Directors for Jack in the Box, Inc. (NASDAQ:JIB) since 2014 and is active on a number of national and regional philanthropic boards and organizations, including KaBOOM!, the Board of Directors of The Foundation for Barnes-Jewish Hospital, and The Committee of 200 (C200), an invitation-only women's business group. Sharon is a sought-after speaker and has been a contributing writer to Fortune.com as a member of Fortune's Powerful Women (MPW). She lives in St. Louis with her husband and three children.